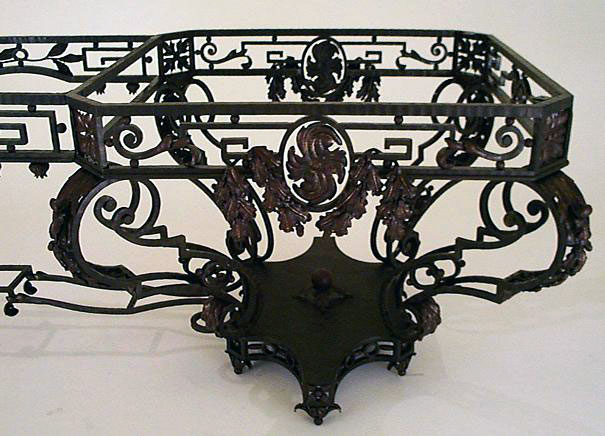 The process: All the solid material was hammer textured with the power hammer prior to fabrication. The leaf work was repousse'd from 16 ga. mild steel sheet. The majority of the repousse' work was done cold with the aid of a treadle hammer. Using a variety of dishing and veining toptools with a lead bottom tool for malleable resistance. Some of the more detailed acanthus leaves needed to be annealed to avoid splitting.

The finish: was a five step process. First the table was sandblasted. Then with the aid of a rose bud torch, stove polish was applied to the hot metal. This was then hand rubbed with a scotchbrite pad that brought out all the highs and lows of the details, and leaving a gunmetal gray finish. To preserve this finish, linseed oil was baked on. A mahogany acrylic was dry brushed on all the leaves, forged balls and acorns. The leaf work was then accented with just a touch of gold highlights. The finish was applied by an associate, named Chris. I wish I could remember his last name.

Approx. labor time: Design and fabrication, 650 hours.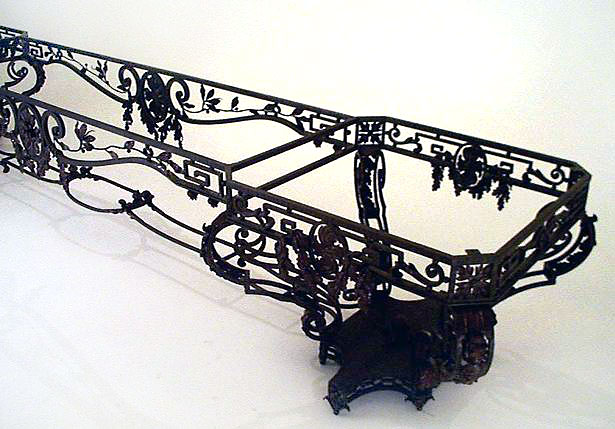 I had the pleasure and most enjoyable challenge of making this table while I was at Klahm and Son's. They got the money and the recognition.....I had all the fun.


Photo of the 1890's wall mount console table that was the inspiration for the 14' table design.